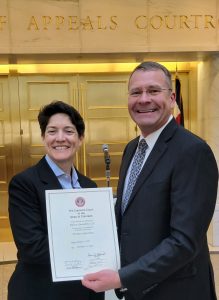 The Colorado Supreme Court presents awards to all lawyers who complete at least fifty hours of pro bono work each year. Rider & Quesenberry has received the Pro Bono Achievement Award for thirteen consecutive years since 2010. Above, Lloyd accepts an award from Justice Márquez on behalf of Rider & Quesenberry at the Colorado Supreme Court Pro-Bono Recognition event on April 26, 2023.



The Pro Bono Project of Mesa County is a 501(c)(3) non-profit organization that provides access to legal services and education to those who qualify as poverty level individuals within our areas of priority. These services are provided by attorneys in the community at no cost.


Colorado Legal Services provides meaningful access to high quality, civil legal services in the pursuit of justice for low-income persons and vulnerable populations.

The Colorado Legal Help Center is a center in collaboration with the Colorado Supreme court dedicated to connecting Colorado's unrepresented litigants to legal information, practical resources, and contact information for assistance with legal issues. To obtain information through the Colorado Legal Help Center, click here.
The Mesa County Bar Association provides Call-A-Lawyer Night available to all Mesa County residents.  Lloyd Quesenberry volunteers in this free service which is offered every other month on the third Thursday of that month.   Call 970-256-4001 for more information.  In addition to Call-A-Lawyer Night, the Mesa County Bar Association provides a Pro Bono Modification Clinic in which Stephanie Rubinstein participates, assisting with modification of dissolution of marriage decrees.