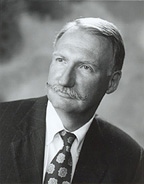 Kirk Rider has now retired from Rider & Quesenberry, LLC. His main areas of practice were corporations, business planning, estate planning and capital formation. His clientele consisted chiefly of business organizations and their owners, and public entities. He graduated from Mesa Jr. College in 1965 and graduated cum laude from the University of Colorado in 1967, and from the University of Michigan Law School in 1971.
Kirk is a past president of the Mesa County Bar Association and served as a Vice President of the Colorado Bar Association in 2014. He is also a Fellow of the Colorado Bar Foundation and American Bar Foundation. He carries an AV® Martindale Hubbell rating.* He presently serves on the evaluation committee for the U.S. magistrate judge for Western Colorado. He has presented programs for professional and client groups on topics including real estate finance, commercial loan documentation, legal ethics, Colorado enterprise zones, public finance, and estate planning.
Kirk's personal interests include Rotary, fishing, travel and golf, and he hunts waterfowl, upland game and elk.