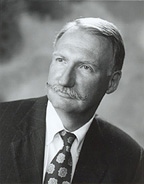 Kirk Rider is of counsel to Rider & Quesenberry, LLC and no longer keeps regular office hours.  Kirk maintained a general business practice with a focus on public finance, corporations, and estate planning. His clientele consisted chiefly of business organizations and their owners, and public entities. He graduated cum laude from the University of Colorado in 1967, and from the University of Michigan Law School in 1971. He served one year as a Law Clerk to the Colorado Supreme Court before entering practice in 1972.
Kirk has served as chairman of the Colorado Bar Association Young Lawyers Section and is a current biographee in Who's Who in American Law. He served for six years on the Colorado Supreme Court Grievance Committee. Kirk is a past president of the Mesa County Bar Association and a Fellow of the Colorado Bar Foundation and American Bar Foundation. He has served on the Colorado Bar Association's Board of Governors, the Judicial Nominating Commission for Colorado's 21st Judicial District, and has served as Colorado Bar Association Vice President from the 7th (CBA) District.
Kirk was a member of the National Association of Bond Lawyers and was a "Red Book" listed bond lawyer for many years. He has presented programs to professional and client groups on topics including real estate finance, commercial loan documentation, legal ethics, Colorado Enterprise Zones, public finance, and estate planning.
Kirk's community activities include service on the Board of Directors of the Grand Junction/Mesa County Riverfront Commission, the Grand Junction Economic Partnership, and service on the Grand Valley Air Quality Planning Committee. Kirk is active in Rotary and served as president of the Grand Junction Rotary Club in 1990. In 2001 he served as Chairman of the fund drive for a new Mesa County Public Library.
Kirk's wife Janine is retired as a dean at Colorado Mesa University in Grand Junction and they have three children. Kirk's personal interests include fishing and golf in the summer and fall. He also hunts waterfowl, upland game and elk.

kirk@gjbusinesslaw.com